Optimization of purchasing processes
We specialize in optimizing the management of purchasing processes. We have implemented the eB2B Purchasing Platform in many companies. The Platform it a tool supporting buyers in their daily work. It accelerates and simplifies communication between the purchasing department and suppliers and facilitates the transparent selection of suppliers. Moreover, itgives a chance to reduce costs of youroperating activity.
Purchasing processes have no secrets for us
The basis of our business is to provide customers with modular electronic tool that facilitate comprehensive management of every aspect of the P2P purchasing process, i.e. from the approval of the purchase requisition to the payment of the related invoice. Our main advantage is the application flexibility. What we propose allows for almost any configuration, which means that users can easily not only follow their daily procedures, but also easily manage the changes. This gives us a significant competitive advantage on the market.
Purchasing systems tailored to the needs of customers
The eB2B Purchasing Platform ensures transparency of supplier selection. It supports al kinds of the contactawarding procedure.
We offer outsourcing of purchasing processes to small and medium-sized companies. Just provide eB2B with the tender documents, we will take care of the setup of your tender.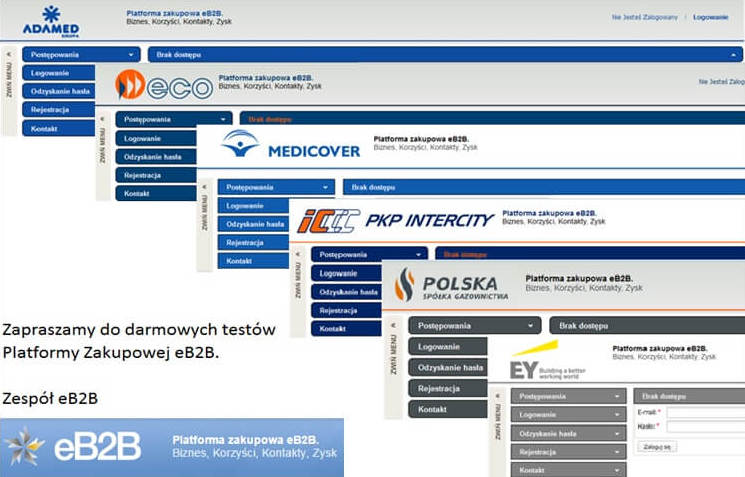 eB2B platform created by professionals.
Optimization of purchasing processes, which we offer, is effective due to the involvement of our consultants. Their knowledge and experience ensuresthat the eB2B Procurement Platform brings the intended results. We guarantee high quality of cooperation with the client, speed of action, as well as substantive support for each party of the process.
Review the current open contract awarding procedures and join hundreds of buyers and sellers who use our purchasing platform every day in order to achieve their professional goals.

Grzegorz Janeczko, ACCA, Prezes zarządu eB2B